NPO registration number: 145-107 NPO
NGO registration number: IT 159/2011
Public Benefit Organisation: 930 036 635
Standard Bank Balfour Park
Branch Code: 051001
Account no: 331 784 408
SWIFT Address: SBZAZAJJ
Have A Heart Campaign: initiatives which ease suffering and improve quality of life
RANDOM ACTS OF KINDNESS….
This ongoing campaign reflects the heart of our NGO – our love, passion and commitment  to making a difference to the lives of those we serve.    Whilst our food garden is our primary initiative, we assist our community in various ways to soften the hardship and ease suffering.
Sanitary pad handouts, thousands of pads given to girls, enough for the entire year at school. This is to ensure that they did not miss school during menstruation. Menstrual cup handout to a smaller group of girls as well.
Grade 0/R toys and stimulation programs at Sediba Thuto Primary School.
Emergency support for Sediba Thuto Primary School – plumbing etc
Coordinate Christmas parties for both the SPCCC and Glenridge Primary school – with assistance of Santa Shoebox Project we made up over 900 shoe boxes filled with toiletries, clothes, stationery, facecloth and sweets
Food, clothing/ shoe collections and hand-outs
Working with Kirsty Watts Foundation to collect school shoes.  Coordinating and assisting with fund raising for our new grade R  classroom built out of recycled bottles.
Devising programs aimed at developing entrepreneurial skills in teenagers
Disability equipment for differently-abled children
Assisting with funding for children who have failed matric (grade 12) to redo that subject.
For the last few years we have been the fortunate beneficiaries of over 6000 Easter Eggs, kindly collected by Johannesburg Mini Council and King Edward School and The Angel Network which we distribute. Warm The World and Rotary Rosebank have assisted us with countless blankets, some warmth for freezing winter living in a shack.
Donations to ease suffering:                                                 Volunteer Days:
Dog Rescues:                                                                      New shoes:                                                               Blanket handouts:
Christmas parties…….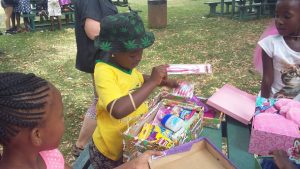 Easter Egg Handouts:                                        Disability Equipment Handout:                                  Sanitary pad handouts: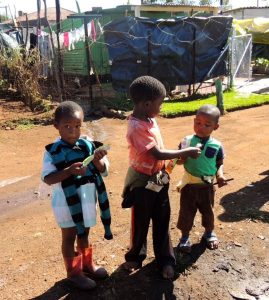 y

To know even one life has breathed easier because you have lived. This is to have succeeded.